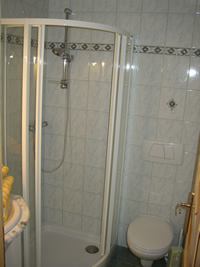 This room is on the 1st floor of House No. 443.

From the balcony you look into the garden with the playground, swimming pool and sunbathing area.
You can also see the Goisererhütte, Kalmberg, the Sarstein and Krippenstein (Dachstein Mountains).
The room is fitted out with a double bed and a single bed with extendable additional bed. A big cupboard with sliding doors provides enough place.
Here there is also a satellite TV with approx. 50 programms and phone.
The new bathroom is fitted out with shower / WC and a marble wash table.
Sometimes this family-room is booked by 4 adults.