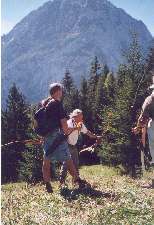 The invention of bow and arrow takes us way back to the history of mankind. With the discovery of the mechanical opportunities that are possible with a bow and arrow, archery is the biggest invention of the human kind.
For years there are competitions, seminars and beginners and advanced archery courses in Bad Goisern.

Nowadays, the bow and arrow are used for sport enjoyment and recreational activity. You can enjoy both at an internationally accepted archery facility.

Doesn't matter if you want to do the bargain or the weekend course, you will be taught by a skilled instructions on how to use bow and arrow. The equipment can be supplied to you.