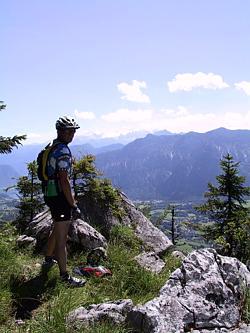 The Salzkammergut - for years known as one of the most beautiful and most popular hiking areas - can now also draw attention with it's 1200 km long mountain bike routes. Because of the combination of mountains and water, this area is made for sport activities of all kinds. This is the oldest tourism area in Austria and can also offer a lot for culture and nature lovers. In 1997 the region from Dachstein to Hallstatt was added to the UNESCO World Heritage Site!

In the Salzkammergut there are uncountable possibilities for mountain bike tours.

Just the view on the great Dachstein and over 70 crystal clear lakes make every sports man's heart beat faster. It's a challenge to prove your sports abilities in such a natural paradise!

In the Salzkammergut it's a lot of fun. It gets really cool when you can only see the great mountains and the extreme mountain bikers have to take on steep ascents, narrow single treks and extreme downhills. Jagged rocks, tree roots, dark tunnels and high profiles make sure that you get the ultimate kick.


Our Offer: Starting from April to July and September until November.

One week, that's 2 overnight stays, rooms with shower/WC, breakfast, taxes and a mountain bike card per person:


with your own bike for EUR 53,-

This offer is also valid during the week.

Not included in the price are children's reduction and extra charge for single occupancy.